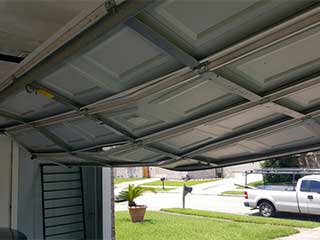 For many years, our company has been helping homeowners enjoy smoothly working and safe electric garage doors. How? You may ask. Why, our scheduled maintenance service. That's how. Every one of our customers who opts for this service can rest easy at night, knowing that their systems are given the best care available. We work with doors and openers of every manufacturer and brand.
Keeping Your Door Solid and Strong
While the panels are made to be highly resistant to damage, it's still possible for rust to affect steel doors and decay to plague the wooden models. Our expert technicians inspect each panel closely and repair it right away if even the slightest issue gets discovered. Providing protection to your door is another equally important task that we do. You can count on us to take equally good care of the various components involved in the system's movement, such as springs and openers. From lubrication to replacing worn-out parts, we do everything quickly and effectively.
Expert Spring Care
These components are the ones that enable your door to open and close. They bear the weight of the entire unit, which is why they deserve special attention. We run tests to see if the spring tension is too high or too low. Whenever we find it to be less than optimal, we always make sure to adjust it appropriately. We can deal with both extension and torsion springs, the latter of which, for instance, require careful winding for tension increase and unwinding for decrease. Since dealing with such components without the proper training can be downright dangerous, you should never attempt to do so by yourself. That's what our experts are here for.
Specialized Opener Service
Our technicians are experts in handling chain, belt and screw drive openers. You can always rely on our team to perform thorough inspection and testing, reset the system's force and travel limits and correctly make any required repairs if we identify a problem. One of our key tasks is the testing of the safety sensors. We typically run two different kinds of tests to ensure they work properly. If one of them fails these test, we replace it.
Contact our Garage Door Repair Huntington Beach team today to give your automatic door the proper maintenance it deserves.
But wait, there's more! We also offer:
Garage Door Safety Inspections
Opener Sensor Repair & Replacement
Extension Spring Adjustment
Broken Garage Door Track Repair