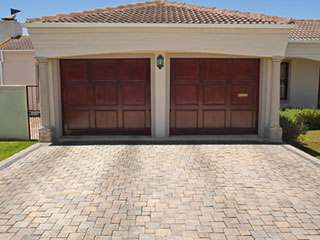 Modern garage doors are available in a wide range of different materials, all of which can be perfect depending on your needs and property. If you're looking for a new door it can be difficult to work out what's right for you - should you choose a natural wood door, or would a wooden effect be better? We've helped hundreds of homeowners pick out garage doors that suit their homes perfectly, and we can do the same for you. The first step is to work out which material is right for you, so here's our breakdown of the 3 main types of garage door material.
Steel Garage Doors
Steel is strong and affordable, and it's a great choice for overhead doors. Intruders will have a tough time breaking through a steel door. It's relatively easy to mold into a wide variety of shapes which means there are lots of different styles to choose from. The main drawback of a steel door in our view is that it can pick up dents easily, and it can rust if not properly protected from the elements.
Aluminum Doors
Aluminum doors look very similar to steel doors, but they differ in several key aspects. Firstly, aluminum does not oxidize in the same way that steel does, which means it won't rust. It's also lighter and typically cheaper than steel. On the other hand, aluminum isn't as strong as steel. However, with the right security equipment, this downside can be mitigated.
Wooden Garage Doors
Wooden doors look very attractive and give a home a real air of class. These doors are resistant to dents and are also a lot easier to repaint than metal doors. They're also very well insulated, which can help to cut down on climate control costs. It's worth bearing in mind though that doors made from wood are heavy, and do require regular applications of sealant to prevent rot from setting in. They can also cost a lot, although wooden veneer finishes are available for a more affordable price.
Still not sure which material is right for you? Just get in touch with our experts at Garage Door Repair Huntington Beach – we'll be happy to discuss options with you in more detail!