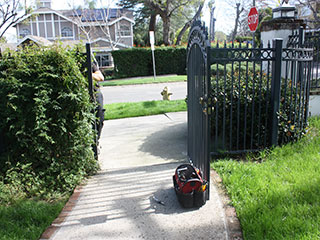 Is Your Opener Acting Up?
Your gate's opener is an extremely important component of the whole system that keeps your gate working properly. If it's been damaged or worn down over the years, you may be noticing signs of trouble. It may take a few tries before the gate will open, it may get stuck part way open or shut, or just won't react at all.
Our professionals can help! We'll come out and determine what exactly the issue is, be it a part that needs replaced, trouble with the transmitter or antennae, or otherwise. We're familiar with a wide variety of brands, so whatever your gate has, we can take care of it!
It Could Need Part Repair!
Over time and with daily use, the various parts of your gate are bound to wear down over time, or even rust! The hinges in particular can become sticky from age, weather, or other factors. This can mean your gate has trouble working, makes annoying noises, and otherwise. Our technicians can perform wielding repairs, or replace the hinge altogether depending on what the problem is. It'll be done before you know it!
Your Gate Could Need Alignment!
It's easy for your gate to get knocked even just slightly off track, by a bump from a car or even a bad storm. This can mean the door isn't closing correctly, and over time other components can be damaged from continued use with it crooked. We can carefully ensure it's back in place, and able to open and close easily!
Commercial Services Available!
If your company's gate has been causing you grief, or even posing a security risk, don't worry! Our experts can repair whatever the issue may be, no problem. We'll do so quickly as well, so we can be out of your way as soon as possible!
Why Wait Any Longer?
Make sure that your gate is in the best shape it can be, and contact Garage Door Repair Huntington Beach today.
Count on us for:
Automatic Gate Troubleshooting
Program Doorking Intercom
Gate Exit Sensor Installation