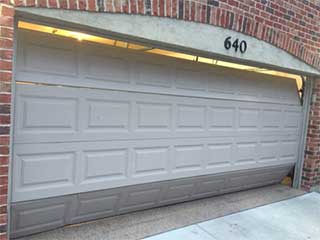 You arrive home after a hard day's work. It's dark and it's raining and all you want to do is get inside and put your feet up. You click your garage door remote… but something is wrong! You click it again and again, but the door won't open. Tired and frustrated, you begrudgingly get out of your car to manually open your door, getting completely soaked in the process. Needless to say, this is a situation you'll definitely want to avoid. Our routine maintenance service can certainly help you with that. But if you haven't scheduled an appointment yet, and you want to know what the problem could be, we have a few ideas.
Check for the Obvious First
The most obvious reason you won't be able to open your garage door could sometimes be because of something as simple as a power outage. Check your fuse box first. If your home has power, another reason could be that your remote control's battery is dead. As silly as it may sound, it's always worth checking.
Something is Very, Very Wrong
Garage doors are complex machines. If you've eliminated the most obvious reasons for your door's refusal to open, you could be facing a bigger problem. Some of the other reasons could be the result of a broken spring, loose cables or a blockage in the tracks, to name a few. Removing a blockage in the track is one thing but the other problems usually require a professional touch. It's also possible that your door has somehow dislodged itself, which will make opening it next to impossible. Regardless of the problem, most of these issues are not for the DIY handyman, so don't be tempted to try and fix them by yourself.
Whatever the Cause, Avoid DIY
If you've checked all your power sources and made sure you don't have a remote control problem and your garage door still won't open, it's time to call in the experts. Replacing components such as springs or repairing something as complex as a garage door opener requires a trained technician with special tools and equipment. Even if the problem is only a minor one, it's often better to leave it to the professionals. There could be larger hidden issues that will be exacerbated when an amateur attempts to deal with the minor problem. Simply call our experts at Garage Door Repair Huntington Beach and we'll quickly and safely deal with everything.